Tourism Wayfinding and Signage Strategy Project
Project: Improving how visitors are guided through Eurobodalla
Start: Late 2017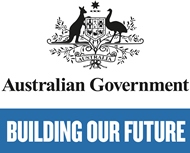 Expected completion: Late 2020
Funding: The Australian Government is helping deliver this project through a grant under the Building Better Regions Fund that matches Council's funding commitment.
Last updated: January 2021
Details
Wayfinding is how people find their way around a place. Cues that help people find their way include clear and concise information signs, and elements such as landmarks and public art.
The Tourism Wayfinding and Signage Strategy Project aims to improve how visitors are guided through Eurobodalla to find the diverse experiences, attractions and services that we offer.
As part of this project, a pilot roll out of tourism signage was installed in late 2019 and early 2020 and a signage style guide was prepared for a hierarchy of destination signage.
Download
The Strategy provides a framework for Council to make decisions on tourism signage to enhance wayfinding in Eurobodalla. It includes principles to help choose the right signage and locations, and for further development of signage policies and processes to implement the Strategy.
Latest news
December 2020:
Council adopted the entry signage design at the ordinary Council meeting on 8 December 2020.
Council won a grant from the NSW Government's Stronger Communities Fund for which will assist delivery of some entry signs by May 2022.
August 2020:
Council has worked with Yuin Artist, Tereasa Trevor to design the laser cut pattern to represent Umbarra (black duck totem).
April 2020:
The pilot roll-out of about 70 signs directing visitors to about 30 destinations, is due to be completed by June.
A Yuin artist has been engaged to work with Council to design the laser cut pattern that represents Umbarra.
Council continues to apply for grant funding to implement the Tourism Wayfinding and Signage Strategy, including the installation of town entry statements.
October 2019:
Council is sought expressions of interest (EOI) from Aboriginal artists and designers to design a laser cut pattern that represents Umbarra (the black duck totem that represents all Dhurga speaking people) that will appear on all Shire entry signs and town entry signs.
EOI applications closed 11 November 2019.
April 2019:
Draft sign concepts were discussed with targeted stakeholders at two council facilitated workshops:

April 2019 Tourism businesses and operators and chambers of commerce
April 2019 Traditional owners and elders

The draft Signage Style Guide will be considered by Council before deciding whether to adopt it.
Entry sign designs
Arterial Design were engaged to prepare a draft signage style guide that captures the essence of the entire Eurobodalla and acknowledges the diversity of landscape, ecology and history throughout the Shire. The design was developed using feedback received during development of the Tourism Wayfinding and Signage Strategy and engagement with targeted stakeholders in April 2019.
Key features of the entry signs design include:
using local timber species
using local quarried stone
turquoise colour representative or our beaches and waterways
sweeping curve representative of our coastline, rolling hills and mountains
local Dhurga language, walawaani njindiwan, which means safe journeys everyone
orange-brown colour of rusted steel which is found throughout Eurobodalla in natural stone, bark and heritage buildings
a laser cut pattern.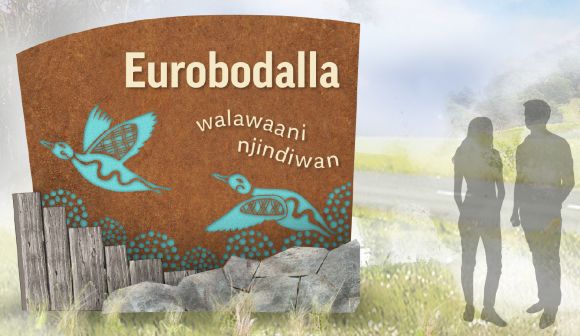 The entry statements that were installed in Batemans Bay, Moruya and Narooma in 2016 may not fit with this new design and style but, unless there is a cost-effective way to retrofit them to bring them in line with the new style, they will be retained until the end of their useful lives.
More information
Background
Project history, the importance of effective wayfinding, and how the Tourism Wayfinding and Signage Strategy was developed.
Community engagement
How the community has been involved so far, and what's next.
Contact us
For more information about the Eurobodalla Tourism Wayfinding and Signage Strategy Project, please contact Angie Radford Strategic Planning Officer (Environment)