Beach accessibility improvements
Project: Improving beach access for people with reduced mobility at Eurobodalla's patrolled beaches and Narooma South Bar netted area.
Timeframe: November 2022 to November 2023
Cost and funding: $495,000 from NSW Government's Regional Tourism Activation Fund
Last updated: August 2023
Project details
We are working to:
Install on-beach 'mobility mats' at seven patrolled beaches across Eurobodalla:

Surf Beach
Malua Bay Beach
South Broulee Beach
Moruya South Head Beach
Tuross Head Main Beach (Clive Court access)
Dalmeny Beach
Narooma Surf Beach

construct hard-surface lead-in paths at various beach locations
extend the ramp at Narooma South Bar Beach for disability access to sand level
learn from users experiences during the first summer to continue improvements for people with reduced mobility.
Benefits to the community:
Improved beach access for people with disabilities, the elderly and users of mobility scooters, wheelchairs, strollers, and trolleys.
The option to use the mats at seven different beaches across the shire.
Encouraging visitation at patrolled beaches means improved beachgoer safety and user access to other facilities like toilets and beach wheelchairs.
The mats and lead-in paths are made from recycled materials, reducing the environmental impact.
Background and purpose
Eurobodalla's beaches are a key attraction for residents and visitors to the area. Council recognises the requests received from the community on the importance of providing beach access for everyone and is partnering with Accessible Beaches Australia to deliver this project.
As our shire consists of 83 beaches, prioritisation for the accessibility upgrades were given to seven of our eight patrolled beaches to maximise user safety.
Improvements to the existing ramp at Narooma's Bar Beach are also included in this project, as the netted area is calm and suitable for swimming.
The new heavy duty roll-up mobility mats will be linked to hard surface lead-in paths, with several new lead-in paths being constructed for this purpose. The mats will be deployed by lifeguards during the peak summer patrol period and packed up ahead of storms or large seas to avoid any damage.
While the access upgrades will improve opportunities for people of all abilities to access the beach, due to natural land formations access points may not comply with Australian Standards for wheelchair ramp gradients. This means some users may still require assistance when accessing the beach.
These access upgrades are early steps in a longer journey to improve visitor experience at our beaches. We understand some of the locations are not yet fully accessibility compliant in terms of parking, toilets, or other facilities.
Mat locations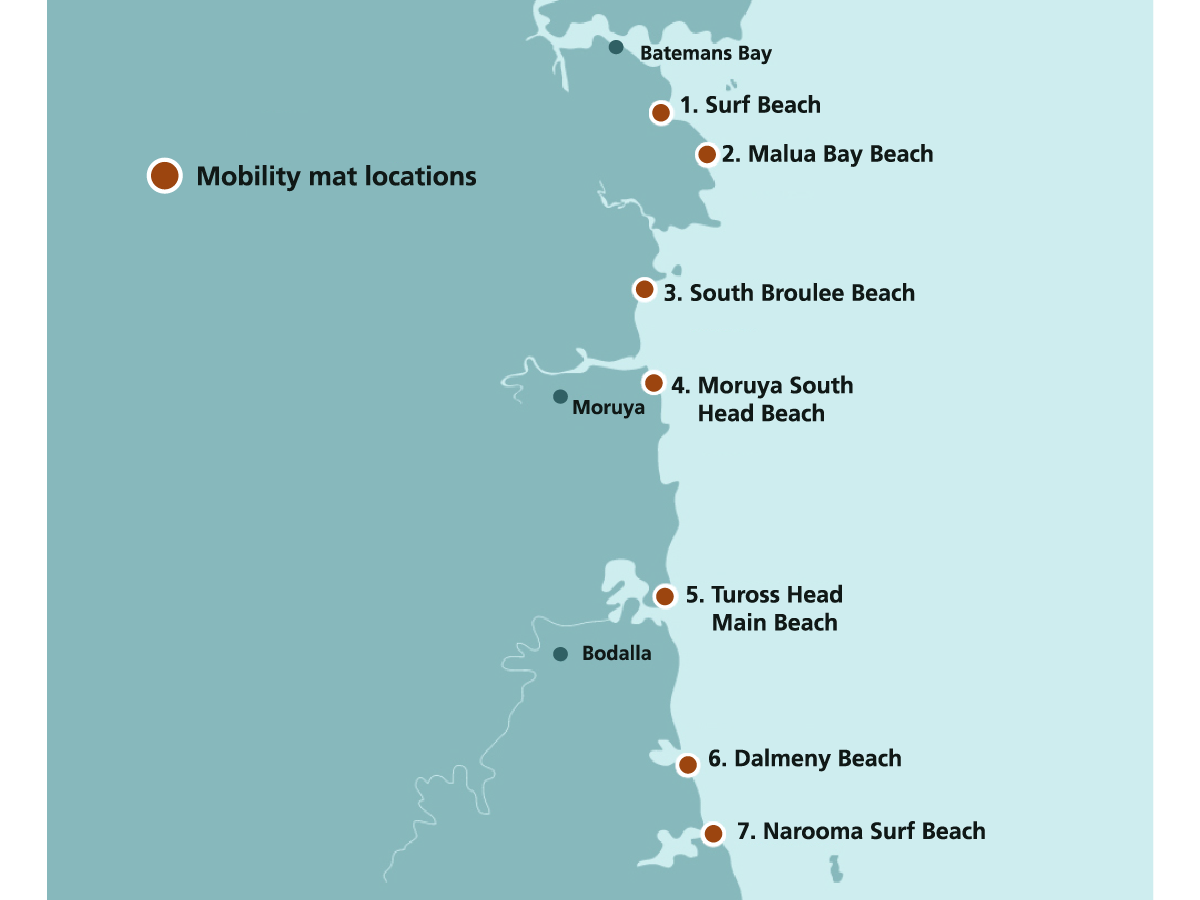 Project updates
August 2023:
Our outdoor crew have completed line marking for new disability parking spaces at beach carparks at Tuross Head, Dalmeny, Narooma Bar and Surf Beach.
We have purchased a floating beach wheelchair for public use and is based at Narooma SLSC.
Our outdoor crew have also completed rectification and improvement of the beach access and pathway at Tuross Head Main Beach (Clive Court).
We will be starting works at Narooma Bar Beach (south) and continuing through September and October, consisting of:

temporarily relocating the existing stone boulders on site to enable construction of new access ramp
deconstructing the existing ramp and retaining wall
constructing a new sandstone block retaining wall
constructing a concrete ramp extension to beach
re-installing the recycled plastic decking ramp.
March 2023:
The beach mobility mats were well used over the summer and Council received lots of positive feedback, and a few hints and tips. The lessons we learnt so far will be incorporated to further improve user experiences next summer.
Thanks to the assistance of our volunteer Surf Life Saving Clubs, the mats will stay out until Anzac Day at Malua Bay, South Broulee, Moruya South Head, and Narooma Surf Beaches (weather permitting).
We'll soon be line-marking for new disability parking spaces at beach car parks at Moruya South Head, Tuross Head, Dalmeny, and Narooma Bar and Surf beaches.
We are now developing designs for the extension and upgrade of the beach access ramp at Narooma South Bar Beach.
February 2023:
The mobility mats proved popular over the school holidays. From feedback, we've learned how we can offer visitors an even better experience next summer.
Council is working with Surf Life Saving Clubs to continue provision of the mats at Malua Bay, Broulee, Moruya South Head and Narooma Surf Beach through to Anzac Day, conditions permitting.
December 2022
We've completed new recycled-plastic lead-in paths at Surf Beach, Malua Bay, South Broulee and Narooma surf beach.
A new sandstone block retaining wall and revegetation works at South Broulee will help to stabilise the dune area around the new path.
We will roll out mobility mats at the seven beaches on 21 December to coincide with the beginning of the professional lifeguard patrol season.
November 2022
We've scheduled construction of lead-in paths at Malua Bay, South Broulee and Narooma surf beach for early December.
Mobility mats will be in operation from the beginning of the school holidays and throughout the peak summer period.
More information
For more information please contact Council's Recreation Services team: