Yuin Country Explored
2020 marked 250 years since Captain James Cook lead the HMB Endeavour on a voyage of Australia's east coast in 1770. This has significance for Eurobodalla as stories of the region are mentioned in Captain Cook's diary and are embedded in local Aboriginal culture.
The Yuin Country Explored project supported Eurobodalla's Aboriginal and Torres Strait Islander community to engage and respond to the 250 year anniversary through commemorative arts and cultural activities. The 12-month project facilitated new Aboriginal art and culture activities and promoted the delivery of existing projects.
Yuin Country Explored was originally designed as a series of outdoor exhibitions and events, but due to COVID it was adapted to a short documentary film, Yuwinj-Dhari Bulwal-Yuin Country Explored. This documentary features Yuin dance, stories and artwork as it celebrates the spirit, resilience and strength of the Yuin Nation. The film helps share our region's history, culture and connection to country from a First Nation's perspective.
Watch and share the film
More information
The Yuin Country Explored project was coordinated and delivered by Eurobodalla Shire Council and funded by the National Museum of Australia's Cultural Connections Program.
For further details about Yuin Country Explored contact Coordinator Arts and Culture Indira Carmichael: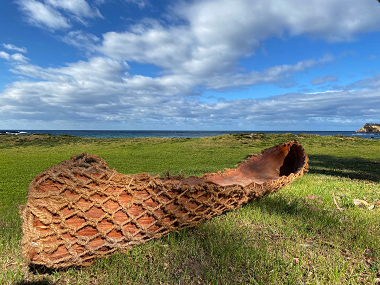 Traditional Yuin Country canoe handmade by the Mason family of Narooma.