Yuin Country Explored
Project: a 12-month project delivering local Aboriginal arts and cultural activities commemorating the 250th anniversary of Captain Cook's voyage of the east coast of Australia in 1770.
Funding: The National Museum of Australia provided $178,000 for this project through the Cultural Connections program.
Time frame: August 2019 to January 2021
Last updated: May 2021
Details
2020 marked 250 years since Captain James Cook lead the HMB Endeavour on a voyage of Australia's east coast in 1770. The milestone is of particular significance to Eurobodalla with stories of the region mentioned in Captain Cook's diary entries and embedded in local Aboriginal culture.
The intention of Yuin Country Explored is to support Eurobodalla's Aboriginal and Torres Strait Islander community to engage and respond to the 250th anniversary through a series of commemorative arts and cultural activities.
This 12-month project facilitated new Aboriginal art and culture activities and promoted the delivery of existing projects. Originally the project was going to end with an outdoor exhibition held at the Eurobodalla Regional Botanic Garden in December 2020, but due to COVID-19 we adapted this plan and instead delivered a short documentary film featuring local dance, stories and artwork to celebrate the spirit, reslience and strength of the Yuin Nation.
By supporting these community-led activities the project aims are to:
improve knowledge of our region's history, culture and connection to country from a First Nation's perspective
create professional development, employment and capacity building opportunities in the arts and culture sectors for Aboriginal and Torres Strait Islander community members.
Yuin Country Explored is coordinated and delivered by Eurobodalla Shire Council and funded by the National Museum of Australia's Cultural Connections Program.
Latest news
May 2021
As part of Reconciliation week 2021 Council screened the documentary Yuwinj-Dhari Bulwal – Yuin Country Explored. Screenings were held at the Narooma Kinema and Perry Street Cinemas, Batemans Bay.
January 2021
Council had two very successful screenings of the documentary Yuwinj-Dhari Bulwal – Yuin Country Explored on 26 January at the Narooma Kinema. The documentary presents some of the important stories surrounding Captain Cook's arrival in the HMB Endeavour along the NSW south coast and the past and present consequences for local Aboriginal people. Council will look to host further screenings in 2021.
September 2020
Due to uncertainty surrounding safe event planning and COVID-19, Yuin Country Explored project managers made the difficult decision to cancel the final event planned for the conclusion of the project. Instead, the team have engaged a production company to develop a short documentary film capturing the spirit, resilience and strength of the Yuin Nation. The documentary will feature dance, stories and artwork by the local community.
April 2020
Launch of the Yuin Country Explored Facebook page to allow workshops and encourage participants to get involved.
March 2020
Due to restrictions currently in place to slow the spread of COVID-19, activities originally planned for the Yuin Country project involving public gatherings have been cancelled. The project will continue to operate in a digital format with community engagement activities taking place online until restrictions are lifted.
More information
For further details about the Yuin Country Explored project contact Coordinator Arts and Culture Indira Carmichael: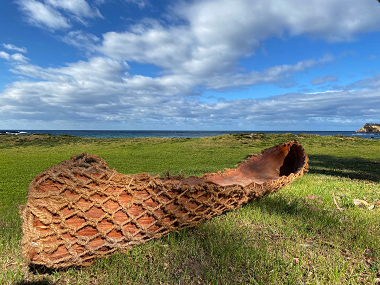 Traditional Yuin Country canoe handmade by the Mason family of Narooma.