Nelligen Water Supply and Sewerage Scheme
Project: Provide a reticulated pressure sewerage scheme and water supply to village properties.
Funding: NSW Government is providing $3.5 million through the Safe and Secure Water Program. Council will contribute the remaining required funds.
Timeframe:
2019 - 2020: Design work
2021: Begin construction of water reservoir and trunk mains, sewage pump station and sewer rising mains
2021: Begin construction of the water and sewerage reticulation within the village
2022: Installation of pressure sewer systems on properties
2022/23: Scheme operational
Last updated: June 2021

Details
Council is working towards providing Nelligen village with a reticulated sewerage scheme and water supply. The project is identified in Council's long-term water and sewer strategic plan, the Integrated Water Cycle Management Strategy.
The provision of a sewerage scheme to replace the existing on-site sewage management systems in Nelligen is a high priority due to an increasing number of sewage pump-out system and failures of on-site treatment and disposal systems. Many properties do not have adequate space and/or have poor quality soils for on-site disposal. The potential impacts on oyster leases and recreational use of the Clyde River are additional considerations.
In conjunction with the installation of the sewerage scheme, a reticulated potable water supply will be provided to the village.
The new facilities will be linked to existing water and sewer infrastructure in Batemans Bay.
Water supply
We will install a pipeline to transfer water from Batemans Bay to a new water supply reservoir - a concrete storage tank - on public land on Old Nelligen Road.
The reservoir will gravity-feed water to Nelligen village and on to individual properties. A water meter and connection point will be installed at the boundary of each property identified within the project.
Property owners may retain their rainwater tanks as either a primary or supplementary water supply, in accordance with appropriate plumbing regulations.
Costs
Property owners will be responsible for the connection of the existing household plumbing to the new mains water supply
Once the water supply is available, property owners will be charged the standard fee, currently $340 per year
Water usage will be charged at the standard rate, currently $3.75 per 1,000 litres.
Pressure sewerage system
A reticulated system will be installed throughout the village to collect sewage from individual properties. A new pumping station and rising main will transfer waste to the Batemans Bay Sewage Treatment Plant.
The new system will replace existing on-site sewage management systems, such as septic tanks and pump outs, and will reduce the risk of harm to the environment and public health.
A pump unit will be installed below ground on each property to collect and pump sewage to the street mains via a new pipe and a boundary kit. The pump unit is approximately 1m in diameter and 2m deep.
In comparison to a traditional gravity-fed system, a pressure sewerage system has lower installation costs and reduced environmental and social impacts. The small diameter pipes can be installed at a shallow depth requiring minimal site disturbance. Pipes can be installed using horizontal drilling technology, avoiding deep excavations throughout the village.
The system allows for power failure with approximately 24 hours of storage. Our on-call sewer operators will be available at all times to attend to any issues.
Ownership and maintenance of the sewerage infrastructure from the pump unit to the street mains will remain Council's responsibility.
On properties where an on-site sewage management system currently exists, we will:
install a sewage pump unit, pump, pump control panel, discharge pipe and boundary kit
connect household waste to the pump unit
provide an electrical connection to the pump and any electrical capacity upgrades required (provided the existing electrical works comply with current standards).
Costs
Property owners will be responsible for arranging and paying for:
rectifying any sewage plumbing that does not conform to current standards
rectifying relevant electrical works that do not conform to current standards
decommissioning of existing on-site sewage management systems following NSW Health Advisory note 3.
Once the scheme is operating, the following costs to property owners will be ongoing:
the standard sewer rate, currently $990 annually
electrical running costs, approximately $30 per year (for a four-person dwelling).
Vacant lots
Vacant property lots and houses under construction without an on-site sewage management system will have a connection point (boundary kit) installed only.
Future development applicants (for new dwellings) will need to liaise with Council's Water and Sewer services regarding the installation of a new pressure sewerage system.
A standard fee, currently $11,800, will be charged for the installation.
Sewage pumping station
To help transfer the sewage from the village to the Batemans Bay Sewage Treatment Plant we will build a pumping station on Council-owned land in Bridge View Road. It has been designed to minimise impact on amenity for residents and visitors and will be largely screened from view by existing vegetation.
The station includes a 100kL concrete tank (3m tall) and a single storey brick building (approximately 90m²). All mechanical and electrical equipment will be housed within this building. Odours from the station will be minimised thanks to an odour control system.
Latest news
January 2021
We are hosting a community drop-in session at the Mechanics Institute of Nelligen to provide information about the upcoming provision of water and sewerage services.
Everyone is welcome to come along to discuss the project design, construction and operation. Components of the new pressure sewer infrastructure will be on display.
It's on Thursday 21 January 2021, drop in anytime between 3pm and 6pm.
July 2020
The new water pipe and sewer pipe have been installed beneath the Clyde River to service the village of Nelligen.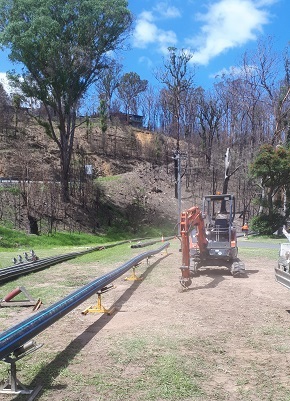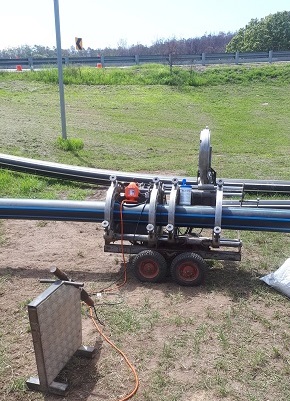 A tunnel was drilled beneath the river and lengths of poly pipe were welded together to create one pipe.
The long pipe was then pulled through the hole with a huge drill rig.
March 2020
As a safety precaution to limit public gatherings and slow the spread of coronavirus, we have cancelled the community drop-in session for now.
When it is safe to do so we will reschedule the event and notify property owners.
PS Solutions have also postponed their meetings with individual property owners in May.
January 2020
The community drop-in session has be rescheduled due to the bushfire emergency.
Come along on the new date, Thursday 23 January, anytime between 3pm and 7pm to the Mechanics Institute, Nelligen. Note: Postponed due to bushfires.
Additionally, PS Solutions will be in the village from Thursday 23 January to Monday 3 February to meet with individual property owners.
Phone 1800 178 978 to make an appointment to discuss and prepare a plan for the location of the pressure sewer equipment and water meter on your property.
December 2019
Nelligen folk are invited to a community drop-in session to find out more about the water supply and sewerage scheme to be rolled out through the village.
Come along and chat with our friendly staff to discuss the project design, construction and operation.
We will have the components of the new pressure sewer infrastructure on display so you can see what will be installed on your property.
See you at the Nelligen Mechanics Institute on Friday 10 January, anytime between 3pm to 7pm. Note: Postponed due to bushfires.
November 2019
Landmark Surveys have been engaged to undertake cadastral and engineering surveys throughout the village between November 2019 and February 2020.
The data is required to develop accurate plans to ensure the new water and sewer components will be installed within property boundaries.
More info
For further details about the project contact our Water and Sewer Projects Engineer, Harvey Lane: